Clean Communities Program
Page Navigation

Close
Clean Communities Program
What is Clean Communites?
New Jersey Clean Communities is a statewide, comprehensive, litter-abatement program created by the passage of the Clean Communities Act in 1986. The Act provides a funding source for the program by placing a tax on fifteen categories of businesses that may produce litter-generating products. The Clean Communities Program Fund generates about $ 20 million each year and is disbursed each year to municipalities (80%), counties (10%), state parks service (10%), and the New Jersey Clean Communities Council, Inc. ($375,000).
The Act also provides guidelines on the use of funds. Municipalities and counties must implement litter abatement programs that incorporate the elements of cleanup, enforcement and education. Municipalities and counties must file statistical reports with the New Jersey Clean Communities Council, Inc. every grant year. Statistical reports track the expenditure of funds and the progress of local programs.
The New Jersey Clean Communities Council, Inc. (NJCCC) is the 501c3 nonprofit that works closely with the New Jersey Department of Environmental Protection and the New Jersey Department of Treasury to administer the Clean Communities program. The Clean Communities Council began as an advisory committee to the Department of Environmental Protection's Clean Communities program in 1989. In 1995, in the face of state budget cuts that virtually eliminated the state positions that provided program oversight and statewide education for the program, the advisory committee sought and received nonprofit status; and became the New Jersey Clean Communities Council, Inc.
The Clean Communities Council oversees the implementation of litter abatement programs in 558 municipalities and 21 counties, collects statistical reports, maintains a data base of information that tracks local programs, and implements a statewide program of public information and education that targets Clean Communities coordinators, schools, and the general public. The Clean Communities Council also administers New Jersey's Adopt-a-Beach and Adopt-a-Highway programs.
In 2020 the NJ State Legislature found that "one third of all plastics produced are single-use plastics and that an estimated 100 billion single-use plastic carryout bags and 25 billion Styrofoam plastic coffee cups are thrown away in the United States each year. That in 2017, only 8.4 percent of plastics in the United States were recycled; that most single-use plastics are disposed of in landfills, are incinerated, or become litter in waterways and oceans; and that plastics released in the environment do not biodegrade. Eight million tons of plastic end up in the oceans annually. New Jersey must do its part to minimize plastic pollution in the ocean, and to ensure that future generations have a clean and healthy environment to live, work, and recreate in; that banning or limiting the use of single-use plastic carryout bags, polystyrene foam food service products, and single-use plastic straws is a significant step in this effort, as these items are among the most significant sources of beach and ocean pollution."
Furthermore the Legislature designated the Clean Communities Program as lead agency to "develop and implement a statewide public information and education program which shall include educational programs, public service announcements, and the distribution of free reusable carryout bags throughout the State." The Governor signed this into Law on November 4, 2020 with an effective date of May 4, 2022.
Clean Community Campaigns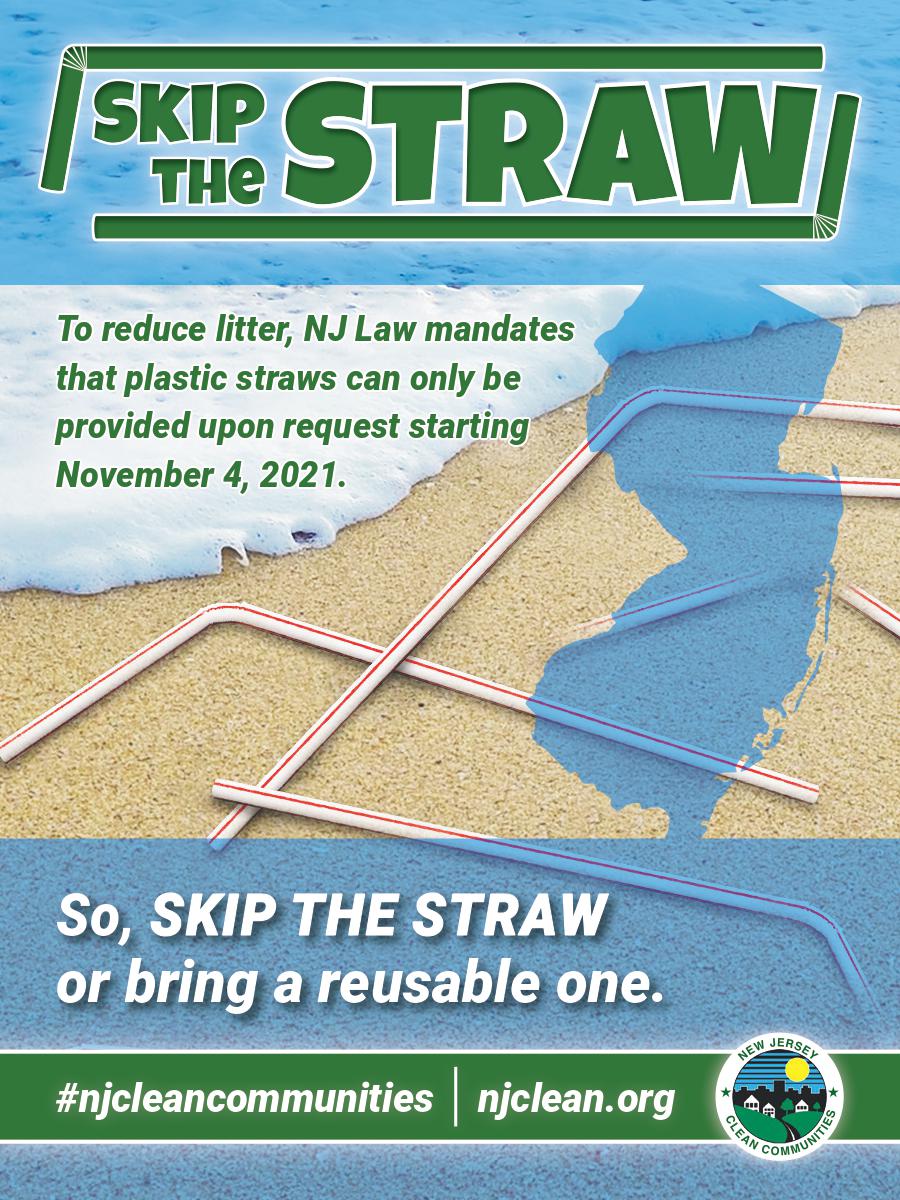 With the seasons quickly changing, NJCCC wants to remind everyone to "Skip the Straw" as starting November 4, single-use plastic straws will only be provided upon request at all restaurants, convenience stores and fast food businesses throughout the state, as per state law.
It may be no surprise that a plastic straw is used for an average of 10 minutes and takes more than 100 years to decompose, making it a serious threat to our wildlife, especially marine life.
Each year, an estimated 1 million birds, marine mammals and sea turtles die from plastics.
This law is a step forward to help New Jersey reduce its litter and protect precious wildlife as it encourages patrons to bring their own straw or skip one altogether. NJCCC encourages all New Jerseyans to do their part. Please, Skip the Straw!
The "Bag Up NJ" campaign, is the New Jersey Clean Communities Council's new single use plastic and paper bag ban outreach campaign, which has a simple message: Bring your own reusable bag(s) when you shop.
This campaign educates and reminds consumers about their options for sustainability at the checkout counter. Consumers can choose to bring their own reusable bags when they shop and recycle their plastic bags.
On Nov. 4, 2020, Governor Phil Murphy and the New Jersey Legislature enacted the most progressive bag ban law in the country. The law prevents litter and encourages the use of reusable bags by phasing out single-use plastic and paper bags.
The law bans plastic bags, regardless of thickness, at grocery stores and retail outlets, as well as paper bags at grocery stores measuring more than 2,500 square feet. It also bans clamshell food containers and other products such as plates, cups, food trays and utensils; and makes plastic straws at restaurants available only upon request.
While we often hear about the environmental impact of disposable plastic bags, it is important to remember that disposable paper bags have a significant impact on the environment too. Papermaking requires large inputs of water, energy, chemicals, and wood, and produces various wastes and emissions that must be controlled or treated. Additionally, paper bags require ten times the amount of trucks to deliver the same quantity of bags, resulting in increased truck traffic and diesel emissions.
"The health and safety of future generations depend on the choices we make today," said former state Assemblywoman Nancy Pinkin (D-Middlesex), who sponsored the legislation with Assemblymen James Kennedy (D-Middlesex, Somerset, Union) and John McKeon (D-Essex, Morris). "Single-use plastic products are one of the single greatest threats to our oceans, environment and health."
The statewide ban on disposable bags goes into effect on May 4, 2022 and will create an effective and uniform sustainable policy for all shoppers and business owners in NJ. Reducing waste and litter statewide is a good thing; "This smart, uniform statewide law preempts all local ordinances." said New Jersey Food Council CEO Linda Doherty, who is also president of the New Jersey Clean Communities Council.
Interested in Forming a Clean Up Event in The Borough?
Mendham Borough Clean Communities Program is looking for volunteer groups to participate in special litter pickup days throughout the year. Mini-grants are available for groups and clubs that wish to participate.
For More Information Please Contact:
Carolynn Budd, Clean Communities Coordinator
cbudd@mendhamnj.org
or call 973-543-6535