Mendham Trees

You notice the Tree City USA signs DPW placed on both ends of town? Have you seen the new street trees popping up all over town? They're beautiful aren't they? Yes, and there are more to come!

Mendham is on a tree planting tear and we want to get everyone involved. Every spring and fall we plant about 15, 2.5" caliper shade trees. All are choice specimens perfectly placed. We pick locations that either held a tree in the past or sorely need one now. Here's where we need your help. If a tree is placed in front of your house please look out for it; give it water during dry spells and even some mulch (free for the asking from our Award Winning DPW). Don't weed wack the trunk and keep the dogs and trash cans away.
If you have a suggestion for where a tree should be planted please let Lisa Smith at the DPW know and she will get right on it.
Now the interesting part; over 3,000 saplings were handed out and planted during the last 2 years. Beautiful native forest trees – nursery grown in NJ free for the asking: Larch, Black Gum, White Oak, Big Leaf Linden, Red Maples, and more. It's a state forestry effort to repopulate the forests after Sandy and other storms that devastated native tree populations. Mendham is a part of the program now that we are a member of Tree City USA. We would like to follow some of these trees as they grow. Let us know how they are doing. Please take a photo and send it in to Lisa Smith at DPW@mendhamnj.org .
How about a contest, whoever sends in the best picture of a beautiful Mendham tree will be the winner of – what else, a tree.
The Shade Tree commissioner will work out the details later but we will all be winners if we recognize the impact each of us can have by planting and protecting trees. Mendham is a wonderful place to call home and our trees help make the town.
So, spread the word and give us some feedback, how did your saplings do? Send a photo. And, send a picture of your favorite tree in town.
Stay in touch, your comments and Photos are much appreciated.

Dave Sharkey
Shade Tree Commissioner
Dec 2, 2015
dsharkey@mendham-nj.org
Some examples of the seedlings given away in 2015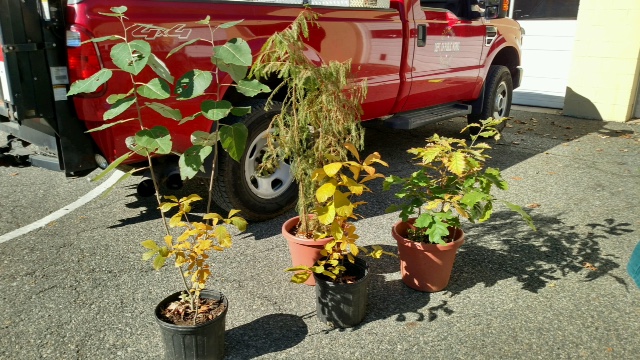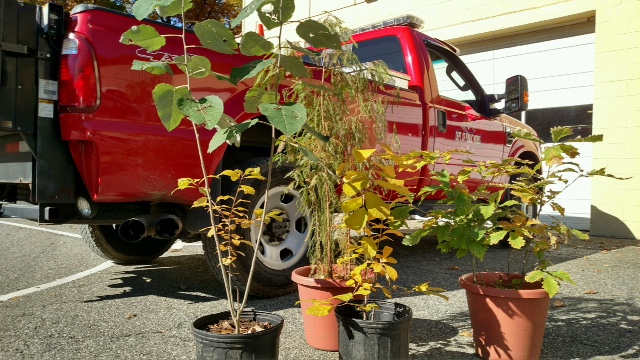 The Mendham Borough Shade Tree Commission, in conjuction with the Department of Public Works, maintains the trees along the Borough roadways. Routine trimming, hazardous tree removals, insect and disease control, and tree replacements are all part our daily routine. We also maintain the plant material at all Borough owned facilities as well. Our goal is to maintain a healthy tree environment throughout Mendham Borough.
We are seeking help from homeowners to alert the Department of Public Works of hazardous tree situations. Also, we will accept suggestions of locations for new tree plantings.
The objective of pruning is to produce strong, healthy, attractive plants. By understanding how, when and why to prune, and by following a few simple principles, this objective can be achieved.