Please select a year.
Refrigerator/Freezer Recycling Program
Release Date: December 13, 2016
We can help you responsibly recycle your refrigerator and/or freezer for free and provide a $50 incentive. You'll be glad to know that approximately 95% of each appliance is recycled!
Flip Your Fridge! If you are buying a new refrigerator, we also have $50 & $75 rebates on certain models. So you can receive up to $125 by recycling your old fridge and purchasing a new, select ENERGY STAR certified model. Replacing your old refrigerator with a new one could save you $250 in energy costs over the next five years.
Ready to make an appointment for a free pick-up? Schedule an apointment online or give us a call us at 877.341.2192! We even have appointments on Saturday!
It Just Makes Sense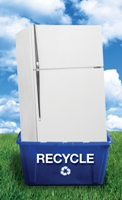 Consider these important facts:
On average a newer refrigerator or freezer consumes 1,000 fewer kWh annually than a refrigerator or freezer manufactured before 1990.
Recycling 20,000 older refrigerators or freezers results in energy savings equal to the amount of power used in approximately 1,400 homes or removing 40,000 cars from the road for one year.
To date New Jersey residents have recycled over 65,000 units, which saves approximately 650,000 kilowatt hours of electricity. This is enough to power 4,550 homes for an entire year!
Find out how much your refrigerator or freezer costs to operate. You can save up to $150 a year on energy costs!
Promotion Dates
This offer is valid through June 30, 2017 and is available to residential customers of Atlantic City Electric, JCP&L, PSE&G and Rockland Electric.