Bulk Trash
Page Navigation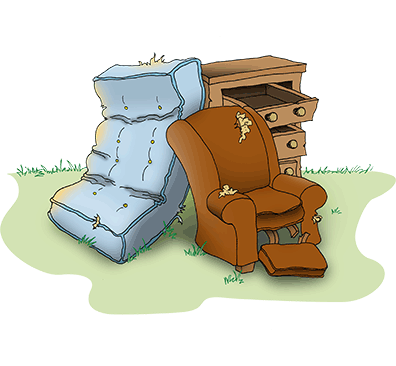 Bulk Trash:
For any questions or to report a missed pick up of bulk trash contact:
Carolynn Budd at Public Works
973-543-6535

Mendham Borough contracts Blue Diamond Disposal to pick up bulk trash items every Monday. If a holiday falls on a Monday the bulk trash is picked up on the next day, Tuesday. Please check this website for holiday updates. If the trash is not picked up, please call 973-543-6535 by 10:00am Tuesday and provide the following information: your address, telephone number and a description of the material left behind.


CURBSIDE BULK TRASH GUIDELINES
(view the Bulk Trash Flyer)
Please do not put materials in black plastic bags.

If a material fits in a bag then please dispose in your regular trash.

Computers/Televisions are not accepted as bulk trash, please see Electronics E-Waste tab for recycling info.

Construction Waste: Building construction, alteration or demolition waste, lumber, asphalt shingles, concrete slabs, steel, iron, concrete or PVC pipes, railroad ties, or any type of fencing materials, etc. are NOT ACCEPTED

WOODEN Swing Sets/Play Houses are NOT ACCEPTED.
Please note: Appliances or "White Goods" that contain Freon (Chloro-FloroCarbon) require special handling before bulk trash pick-up.
Freon Removal
Freon must be removed from items, such as refrigerators, freezers, air conditioners, etc. before collection will occur. The Borough does not endorse any specific company. Each item must have a sticker provided by an authorized company in order to be collected curbside.
Please go to website: www.mcmua.com/Materials.asp for information.

Please check the following website for Hazardous Waste & Computer/T.V. Drop-Off Events:
www.mcmua.com