Frequently Asked Questions
Page Navigation

Close
Frequently Asked Questions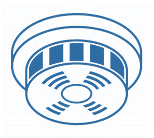 I am selling my home and I need to obtain a Certificate of Smoke Alarm, Carbon Monoxide Alarm, and Portable Fire Extinguisher Compliance . How do I get it?
The New Jersey Uniform Fire Code 5:70-2.3(a) states: "Before any one or two family structure is sold, leased or otherwise made subject to a change of occupancy for residential purposes, the owner shall obtain a Certificate of Smoke Alarm, Carbon Monoxide Alarm and Portable Fire Extinguisher Compliance (CSACMAPFEC), evidencing compliance with N.J.A.C 5:70-4.19.

Mail or drop off completed application & fee to:

Mendham Borough Clerk's Office

Inspections

Monday - Friday between 10:00am-12:00pm.
How often should I change the batteries in my smoke detectors and carbon monoxide detectors?
Batteries should be changed at a minimum of once a year.

The Fire Prevention Bureau recommends replacement twice a year and suggests that a good way to remember is to change your batteries when you change your clocks for the beginning and the end of daylight savings time.

"Change Your Clock, Change Your Batteries"
Should smoke detectors ever be replaced?
It is recommended that smoke detectors be replaced every 10 years.
Where should I dispose of old fire extinguishers?
Dry chemical extinguishers

May be discharged in an area where an acidic fertilizer would be used such as around evergreens.

When relieving the pressure (emptying) the container for disposal, review manufacturers' instructions, or, if unavailable, use the PASS technique

Pull the pin: this unlocks the operating lever and allows you to discharge the extinguisher.

Some extinguishers may have other seals or tamper indicators.

Aim low: Point the extinguisher nozzle (or hose) at the base of the item.

Squeeze the lever above the handle: this discharges the extinguishing agent.

Releasing the lever will stop the discharge.

Some extinguishers have a button instead of a lever.

Sweep from side to side.

After pressure has been relieved (when nothing else comes out) remove the head from the container and place it with scrap metal or in the trash.