Vital Records & Marriage License
Page Navigation

Close
Vital Records & Marriage License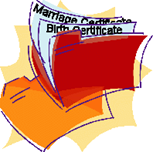 REGISTRAR OF VITAL STATISTICS OFFICE
Lauren McBride, Deputy Registrar, CMR
Office Hours
Monday - Friday 9:00am - 4:30pm
MARRIAGE LICENSES AND VITAL RECORDS AVAILABLE BY APPOINTMENT ONLY
Appointments Available Monday - Friday 9:00am - 4:00pm by Emailing clerk@mendhamnj.org
MARRIAGE/CIVIL UNION LICENSE
APPLICATION & GUIDELINES
The Vital Records Office processes and maintains all records of births, deaths, marriages, domestic partnerships and civil unions that occur in The Borough of Mendham Only.
MARRIAGE/CIVIL UNION APPLICATION
Eligibility

Either applicant must reside in Mendham Borough.

If neither applicant is a resident of New Jersey and the ceremony will be performed in
the Borough of Mendham.

The license will only be valid in Mendham Borough.

Application Process

Complete the first page of the application in advance of your visit.

Please do not sign the application as it must be signed under oath in the presence of the issuing authority.
Both applicants must appear in-person at the Registrar's office to apply for the license.

One Witness is Requried

Individual must be at least eighteen years of age

Must know both parties

Must appear with the applicants

Must swear to the completeness and accuracy of their answers.

72 Hour Waiting Period

Required by the State of NJ after an application is made before the license can be issued.

The license, once issued, is valid for only 30 days.

Documentation Required

Acceptable Proof of Identity

Driver's License

Current Passport

State/County Identification Card

Military ID

Acceptable Proof of Residency

Driver's license

Lease

Tax Return

Other documentation of residency

Application Fee

$28.00 - fee is currently waived through 6/30/2023.

Must be submited with completed application.

Payable by cash or check made payable to the Borough of Mendham.

APPLICATIONS ARE TAKEN BY APPOINTMENT ONLY.
OBTAINING A CERTIFIED COPY OF A VITAL RECORD
APPLICATION & GUIDELINES
VITAL RECORDS APPLICATION

Proof of Relationship to the Person Listed on the Record is Required

The proof must establish that you are of legal age and are either:

Subject of the record

Parent, l

egal guardian or legal representative

Spouse/civil union partner

Child

Gandchild

Sibling

Acceptable Identification

Current, valid photo driver's license or photo non-driver's license with current address

Current, valid driver's license without photo and one alternate form of ID with current address

Two alternate forms of ID listed below, one of which must have current address:

Vehicle insurance card

Voter registration

US/Foreign Passport

Immigrant Visa

Permanent Resident Card (Green Card)

Federal/State ID

County ID

School ID

Utility bill(within the previous 90 days)

Bank Statement (within previous 90 days)

W-2 or tax return for current or previous year

Homeless individuals can provide identification from a social worker or homeless shelter coordinator.

Incarcerated individuals can provide legal imprisonment, conviction papers or release documents that include the name, social security number and all possible aliases used in the past or identification from a prison/probation official.

Other Required Information

Death or Birth Certificate

F

ull name on the record

City where the event occurred

Exact month/day/year of the event

Mother's maiden name

Father's name (if on record)

Marriage, Civil Union or Domestic Partnership

\

Legal name of the spouse/partner required

Do not send in original ID documents

Photocopies are acceptable

Certified Copy Fee

$10.00 each

Check or money order, made payable to the Borough of Mendham.

Must be submited with completed application.