Shade Tree Programs
Page Navigation


2022
Annual Arbor Day Celebration Free Tree Seedling Program
All 500 Seedlings were picked-up by residents and planted!
Thank you for another successful year!
This years varities included Shellbark Hickory, Hackberry, Flowering Dogwood, Kousa Dogwood, Cornelian Cherry, Black Walnut, Black Gum and Willow Oak.

The Shade Tree Commission Annual Arbor Day Celebration has handed out over 6,000 saplings in 8 years.

The saplings are beautiful native forest trees -- NJ nursery grown.

The program is a NJ State Forestry effort to repopulate the forests after Super Storm Sandy and other storms that devastated native tree populations.

The Shade Tree Commission would like to follow these trees as they grow. Let us know how your saplings are doing. Please send photos to Debbie Holly dholly@mendhamnj.org
Annual Fall Foliage Photo Contest
The Annual Fall Foliage Photo Contest began in 2019.

Each year the Shade Tree Commission holds the annual contest from September-November.

Deadline for Submissions is December 1st. Photos must be taken in Mendham.

Submit your photos and location of picture to: dpw@memdhamnj.org

Annual slide show of particpants photos presented by MendhamTv
2021 First Place Winner!
2020 First Place Winner

Thank you to all who participated!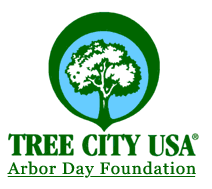 Mendham Borough has been named a 2022 Tree City USA for the 9th year in a row!
Have you noticed the Tree City USA signs DPW placed on both ends of town? Have you seen the new street trees popping up all over town? They're beautiful aren't they!!!

The Mendham Shade Tree Commission is on a tree planting mission and wants to get everyone involved.

Every Spring and Fall the Commission, as part of the Tree City USA Program, plants about 15 to 20, 2.5" caliper shade trees.

The Commission picks locations working with property owners that either had a tree in the past or greatly need one now or in the Borough ROW.

If you have a suggestion for where a tree should be planted or would like a tree please email Deborah Holly at dpw@mendhamnj.org

All trees are choice specimens and perfectly placed.

Here's where we need your help. If a tree is placed on your property or in front of your house please look out for it.

Please give it water during dry spells and even some free wood chips for the asking from the Borough DPW.

Please do not weed wack the trunk and keep dogs and trash cans away.