Phoenix House History
Page Navigation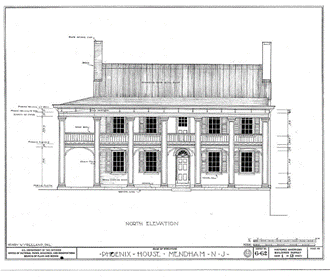 Through the years Main Street was also known as the King's Highway, the William Penn Highway, and the Washington Turnpike. It was an important stage-coach link between New York City and Easton, Pa. The crossroads have looked pretty much the same for well over 100 years, with the same four buildings anchoring each comer.
The Phoenix House has been part of crossroads' center of the village since around 1800. Byram came to this area from New England, and it is said that he named Mendham after the English village of his ancestors.
Built around 1800 the Phoenix House displays the classic features of Federal style architecture -- a gambrel roof, paired chimneys, and a fanlight entryway, centered in a five-bay facade. The brick construction is unusual for Mendham at this time. Plans and drawings of the building have been
recorded by the Historic American Building Survey in the Library of Congress.
Aaron Hudson's first commission in Mendham was the porch on the Phoenix House. This he designed and built in 1838, and if he was trying to make an architectural statement for travelers to notice Mendham, he certainly achieved his goal. This massive porch, built in the Greek Revival style with
Gothic arches between the pillars, almost obscures the building behind it. The two-story piers are a Hudson signature and when viewed from the northeast, so that the porch can be seen in its entirety, it truly is a magnificent legacy that he created for the future generations of Mendham.
The Phoenix House originated as an academy for young ladies but shortly after the completion of the Washington Turnpike around 1806, it was converted to an inn and tavern by William Phoenix. In the 1850's his daughters took over the operation and the Phoenix House became a genteel boarding house: although, legend has it that Miss Phoenix continued to sell liquor through a side-door in the kitchen.
Mendham developed a good reputation as a summer resort; therefore, boarding guests was one of the few industries in the village in the 19th century. In addition to the two inns, several other establishments opened their doors to summer guests. Probably the most famous guest at the Phoenix House was General Abner Doubleday, a retired Civil War hero, considered to be the "Father of Baseball."
Through a very gracious donation by Senator Arthur Whitney and his wife, the Phoenix House now belongs to the people of Mendham Borough. Today the Phoenix House is used as a municipal hall.