Millbrook Ave. Bridge Will Reopen at 5pm Today
Release Date: August 29, 2023
COUNTY OF MORRIS
Office of Communications & Digital Media.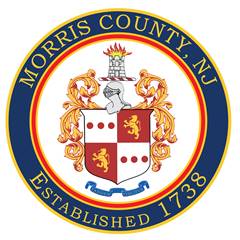 Millbrook Ave. Bridge Will Reopen at 5pm Today
County Bridge Restoration Project Completed Before First Day of School
Morris County officials cut a ribbon this morning at the historic Millbrook Avenue bridge in Randolph Township, celebrating completion of a two-month restoration project and announcing the span will be reopened today at 5 p.m.
Short on time? Watch a video update on Morris County's YouTube account.
"We have phenomenal partners: the Township of Randolph, municipal officials, our engineering team. This project was done on time and on budget in a very rainy season, so I want to thank the contractor for that as well. The county has a massive amount of infrastructure to take care of, and we understand it's critical to our businesses and our residents. The county maintains 287 miles of roads and about 1,100 bridges and culverts. This was one of six bridge restoration projects completed since 2022. It was closed 10 weeks and it's great to see this open again," stated Morris County Commissioner Stephen Shaw, liaison to the Morris County Public Works Department.
He was joined at the ribbon cutting by Morris County Commissioner Deborah Smith, Randolph Mayor Lou Nisivoccia and Councilmembers Marie Potter, Christine Carey and Joe Hathaway, as well as employees from Morris County and Randolph Township engineering departments and Sparwick Contracting of Lafayette, which performed the restoration work that began mid-June.
The historic stone masonry arch bridge over Mill Brook in Randolph was originally constructed in 1930 and has a span length of 17 feet to carry two lanes of traffic with a roadway width of 23 feet. For more than 90 years it has been an essential link for Randolph Township, connecting the quaint Millbrook community to the modern era. Over time, the impacts of water infiltration and freeze/thaw cycles caused deterioration and stone displacement to the point that the bridge required remediation.
The $697,000 county-funded project, which began on June 19, 2023 included:
Reconstructing stone masonry elements (parapets, retaining walls, and footings)

Strengthening the arch through masonry repairs and the construction of reinforced flowable fill over the arch

Protecting the arch from water infiltration by constructing membrane waterproofing sandwiched between layers of asphalt pavement

Construction of surface drainage improvements
The project required a full roadway closure of Millbrook Avenue between Fords Road and Pierson's Hill Road. Construction was scheduled between the hours of 7 a.m. - 5 p.m. Monday through Friday and most Saturdays from 7 a.m. - 3:30 p.m. to complete the project as quickly as possible.
"I'm happy to see the bridge open. I want to thank the county for all their cooperation. It looks beautiful – it looks just like the old bridge did. For those of us who have been here a long time, it's nice to know it fits the historical nature of the area, while also adding to modern safety," stated Mayor Nisivoccia.
Travelers can safely cross again on a newly paved riding surface supported by structurally reinforced walls and arches!
With Schooley's Mountain Bridge in Washington Township and Millbrook Ave. Bridge completed, the county has completed six bridge projects since last year. Morris County Public Works Director Chris Vitz is looking forward to two more upcoming projects planned for this year: demolition and replacement of the Richards Avenue Bridge over McKeel Brook in the Town of Dover and rehabilitation of a truss bridge on Roxiticus Road in Mendham Township.